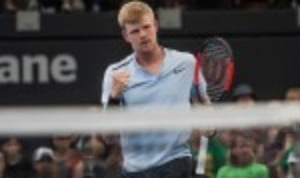 Edmund into second round
Originally published on 02/01/18 00:00
The match lasted two and a half hours and it took the British No.2 a while to get into his rhythm.
"It was the first match of the year, you don't really know what to expect," said Edmund, post-match, "It's good to come through like that."
"I served a lot better in the second and third sets and generally, in the points and the rallies, I felt a little bit more comfortable," he said.
Shapovalov showed flashes of the brilliance that will make him a tricky opponent for many of the top players in the coming months. In the match he served 18 aces to Edmund's five.
"He is a tough player," acknowledged Edmund. "Last year he had a really good year, obviously, so he's a good player."
Edmund says he spent the off-season working in both London and the Bahamas.
Asked about Murray's withdrawal from the tournament, the 22-year-old admitted he was not surprised by the announcement. 'No one really knows where he's at, do they?
"But I thought the fact he played a set in Abu Dhabi and came here, I thought was more encouraging -that he was getting better and better."
And echoing what a lot of Murray's fellow players and fans are feeling, he added:
"I think it's obviously a shame he's not playing because he's not ready. But, you know, it sucks that he's not ready, doesn't it? Everyone wants him to be on court."
Edmund will play 21-year-old Hyeon Chung in the second round. Chung today beat Gilles Muller.