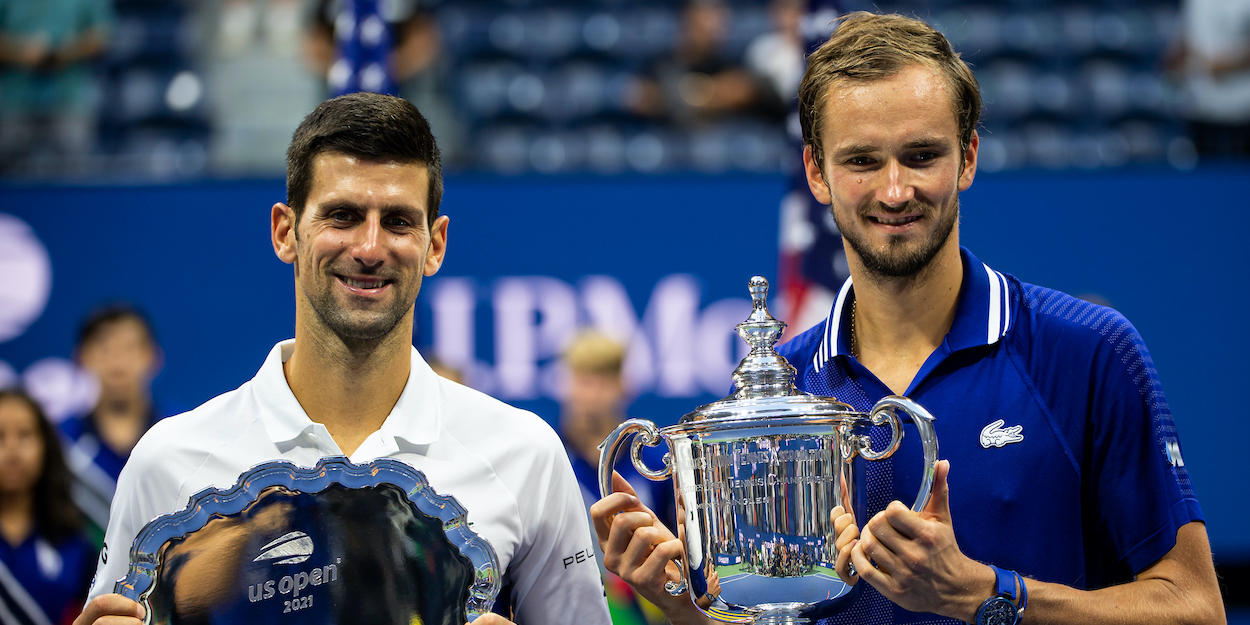 'Djokovic felt dominated' – Medvedev coach reveals thoughts on Paris final
Coach of Russian World number two Daniil Medvedev, Gilles Cervara, praised Novak Djokovic but feels the Russian "won the final that we had to win."
Daniil Medvedev and Serbian World Number one Novak Djokovic have met on three occasions this season, with all three encounters coming in tournament finals.
Djokovic beat Medvedev in straight sets in the Australian Open final, winning 7-5 6-2 6-2. Medvedev then got revenge over Djokovic at the US Open beating the Serbian in straight sets, 6-4 6-4 6-4, ending Djokovic's dreams of a Calendar Slam and a record 21st Grand Slam title.
Most recently, Djokovic came from a set down to beat Medvedev 4-6 6-3 6-3 in the Paris Masters final, claiming a record-breaking 37th Masters title and finishing as Year-End number one for a record seventh time.
In an interview with L'Équipe, Medvedev's coach Gilles Cervara detailed the Russian's overall performance at the Paris Masters.
"Entering a tournament is always the unknown. You are faced with your doubts, you have to rebuild new certainties for the tournament and it can be fluid or laborious, it depends on a lot of things.
"This is a bit like what happened in this tournament. It was neither good nor bad. Just enough to be better than the opponent (Ilya Ivashka in the round of 32 and Sebastian Korda in the round of 16).
"The match against Hugo [Gaston] is special , you know you're 'stronger' on paper but a match in this context is a trap. Daniil wins the first set by miracle (a 9-7 tie-break) and inevitably it unlocks the rest.
"Regarding the public, personally I loved living it. We were ready to be shouted [at], ready to receive tomatoes on the face. Daniil loves adversity. And me too," Cervara said.
"Unexpected. Daniil 'broke' Zverev in a dimension of play where it's supposed to be 50-50 (6-2, 6-2). I have rarely seen a player win so many long and tight points as in this meeting. And that is very difficult morally for the opponent."
The French coach also praised Djokovic for his Paris Masters win, but felt Medvedev dominated the first set. Overall, Cervara thinks Djokovic's performance was better than the US Open final.
"Well done Novak. I found it much more solid than in New York (where Medvedev beat Djokovic 6-4, 6-4, 6-4). Fortunately, we won the final that we had to win," Cervara joked.
"Daniil is doing well in the first set because he saves two break points at 2-3 and raises his level to dominate Novak. Novak seems very relaxed, yes, but I'm never surprised with him. I just think he felt dominated and that's a way of turning his back on what's going on."
"To then recover from the start of the second set. At the start of this round, there was another important moment that could have passed for Daniil. Same for third. I think he ran out [of] a bit of fuel to be more precise, cooler to hold even more against Novak at this level."