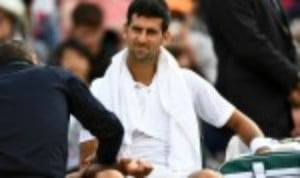 Djokovic delays comeback
Originally published on 29/12/17 00:00
The 12-time Grand Slam winner was expected to take on Roberto Bautista Agut at the Mubadala World Tennis Championship in Abu Dhabi this afternoon, but has been forced to pull out the event with more elbow trouble.
In a brief statement, the former world No.1 said: "Unfortunately, in the past few days, I started to feel pain in the elbow and after several tests, my medical team has advised me not to risk anything, to withdraw from the tournament and to immediately continue with the therapies.
"I am very sad because I was eager to return to playing official matches. This might affect the start of the season and the tournament plan."
Djokovic, who has not played since Wimbledon, is due to defend his title at the Qatar Open in Doha next week, but his participation must now be in serious doubt. It also remains unclear whether the six-time Australian Open champion will make the journey Down Under next month.
Andy Murray, currently in Abu Dhabi training, will replace Djokovic and play Agut is a one-set exhibition match.