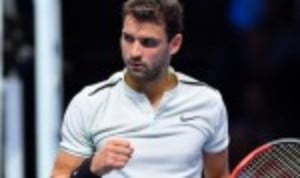 Dimitrov earns title shot
Originally published on 18/11/17 00:00
The Bulgarian's showed his mettle as he fought back from a precarious position to defeat Jack Sock 4-6 6-0 6-3 and reach the final of the Nitto ATP Finals in London
Dimitrov will take on David Goffin in the championship match on Sunday evening, a player he thrashed for the concession of just two games earlier this week. In securing victory over the American, the Bulgarian is now guaranteed to finish the year at a career-high ranking of No.3.
Dimitrov had dazzled in the group phase, and he made a lightning quick start in the knockout stages. His backhand down the line helped him establish a 3-0 lead and he came close to moving 4-0 ahead.
Sock has been under the cosh, but he soon settled and began to thrash his wicked forehand with distinction.
Dimitrov's energetic start petered out and he struggled to cope with the velocity of his opponent's groundstrokes. The American won six of the final seven games in the set to pinch the opener.
In his previous match, Sock effectively downed tools in the second set after falling behind early – and he did similar against the Bulgarian. Rather than graft for every point, the 25-year-old went for Hollywood shots as he readied himself for a decider.
It has been a long and successful few weeks for the American in Europe, but he was fully engaged in the third set. He managed to stay with his confident opponent until the eighth game, before double-faults derailed his bid.
The Bulgarian, who has been known to get tight when trying to close out matches, was just a service hold from reaching the biggest final of his career – and the tension was palpable.
Dimitrov watched three match-points quickly disappear and he had to be alert to save two break-points as his rival refused to let his London dream stall without an almighty fight.
Chants of "Grisha" echoed around the O2 arena as the large number of Bulgarians present urged their man to apply the finishing touches, and he answered their call with his fourth match-point.
"I had a pretty poor start to each set," admitted Sock afterwards. "I went down a break in the first but was able to get it back. I didn't win a game in the second and had some looks early in the third.
"When you play a player of that calibre, you can't give him that many opportunities, that many free points. He took advantage today. I thought he really stepped up his level in the second and third. He came up with some pretty crazy shots in the third set at some inopportune for myself.
"He stepped up his level, for sure. There's a reason he's been playing this consistently all year. That's the reason he's in the final."