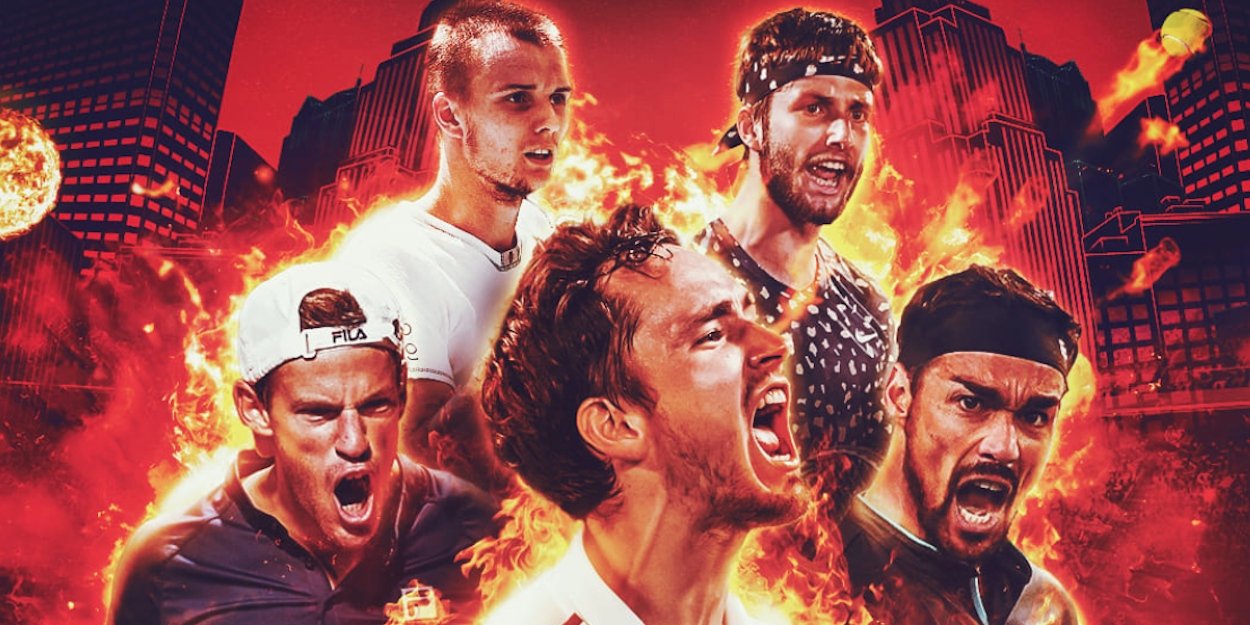 Daniil Medvedev headlines strong field as UTS returns for a fourth edition
Daniil Medvedev headlines an intriguing field as the Ultimate Tennis Showdown returns on the clay a week before Roland Garros.
The Ultimate Tennis Showdown (UTS) will make for a fascinating build-up to the French Open, with eight players given the ideal opportunity to express themselves before heading into Grand Slam mode a week later.
Daniil Medvedev and World No 9 Diego Schwartzman will join the fray for the first time, with the field assembling at the Mouratoglou Academy in the French Riviera on May 24-25.
Italian flair will also be on show as Fabio Fognini takes centre stage, while the unpredictable Kazakh Alexander Bublik will make his debut alongside UTS usual Courentin Moutet.
As five players with unfiltered personalities prepare to battle it out, UTS promises to be more drama-laden and sensational than ever before.
Medvedev heads the field
Russia's Daniil Medvedev – aka 'The Chessmaster' – a two-time Grand Slam finalist and the winner of the Nitto ATP Finals in 2020, will add more star quality to UTS, which has proven to be the perfect platform for players to show off their personality, unfiltered by rules and regulations.
Unorthodox in style but high on quality, The Chessmaster will think outside the box to make the most of the innovative UTS format, with its UTS cards, 10-minute quarters and sudden death.
Clay specialist Schwartzman features 
Schwartzman – 'El Peque' – reached his first Grand Slam semi-final at Roland-Garros last year and qualified for the ATP Finals. Known for his resilience, competitive spirit and quirky nature, Schwartzman will be a great fit to the UTS format and atmosphere.
Fiery Fabio takes centre stage
Former Top 10 star Fognini is another exciting addition, with his bad boy persona bound to create even more theatrics on the UTS court.
The 'Bublik Enemy' makes debut
Kazakh star Bublik, also known as 'The Bublik Enemy', promises to bring his unconventional game style and array of trick shots to UTS, and will be determined to add a few more big wins to his growing list.
More UTS for Moutet
UTS stalwart Moutet returns once again, having competed in UTS1 and UTS2. 'The Tornado' will bring his own style of tennis to UTS, with drop shots, trick shots and outrageous moments. Ranked a career-high No 67, the youngster is keen to make his mark.
[𝙘𝙝𝙖𝙤𝙩𝙞𝙘 𝙢𝙪𝙨𝙞𝙘 𝙞𝙣𝙩𝙚𝙣𝙨𝙞𝙛𝙞𝙚𝙨]

⚡️ UTS4
🗓 May 24-25
🏟 @MouratoglouAcad
🧡 Clay pic.twitter.com/cdpoMP8EBE

— UTS | Ultimate Tennis Showdown (@UTShowdown) May 7, 2021
Three further players are set to be announced ahead of the tournament on May 24. For more information, head to the UTS website.