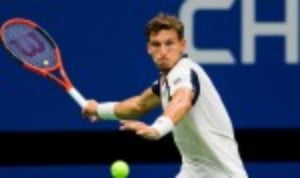 Busta into last eight
Originally published on 03/09/17 00:00
On Arthur Ashe today, he defeated qualifier Denis Shapovalov in three tiebreak sets to reach his second Grand Slam quarter final of the year.
It was a close match, each set lasting 58 minutes and each going to a tiebreak. In each shootout, the Spaniard managed to maintain his composure while his youthful opponent paid the price for inconsistent play.
When Busta converted his third matc- point with a fizzing serve aimed at the Canadian's backhand, he sealed his place in the quarter-finals of the US Open for the first time in his career.
"In the tiebreaks, I just played perfect," he said with a smile. "I played very aggressive. I served really well. It was very tough, because it was three hours, three sets, three tiebreaks, but of course it was an amazing victory for me."
The 26-year-old was brought up in Gijon, but unlike so many Spaniards, he spent his early years practicing on hard courts. Busta was 15-years-old when he moved to Barcelona and began to train on clay.
He is coached by Samuel Lopez and Cesar Fabregas and often practices with Rafael Nadal. In 2015, he started training at the JC Ferrero Equelite Sport Academy.
"Rafa is one of the best tennis players ever," he said. "Maybe the best player on clay courts, and I learn a lot from him.
"I always try to practice with him, because it's really important to me to be near the best players and practice with them. I just try to learn about how he practices, what he does after practice, before practice, after matches, before matches. I think I'm learning a lot."
Although he turned pro in 2005, Busta climbed to his highest world ranking in July this year and is currently ranked No.19.
Staring this year ranked at No.30, he progressed to his first ATP Masters 100 semi-final in Indian Wells. He also reached the last eight at Roland Garros before retiring with an abdominal injury against eventual champion. The injury kept him out of Wimbledon and he made his return to competitive action in Sweden.
So why so much success now? "I believe in myself" he said. "I believe more than previous years. I know that I can do it. I have more experience and I think that I can continue going up."
Coming into this third round match, Busta had played only qualifiers. He played American Evan King in the first round; Britain's Cameron Norrie was his second round opponent and he encountered Nicolas Mahut in round three.
"Of course Shapovalov is not a normal qualifier," he said. "His level is better than a qualifier. But maybe the first two rounds that I played against qualifiers was good for me because I got rhythm and I played very good. That give me the confidence that I'm showing on court now."
Busta, who has yet to drop a set this tournament, is the highest seeded player left in the bottom half of the men's draw.
This story is brought to you by Wilson, the global leader in performance tennis