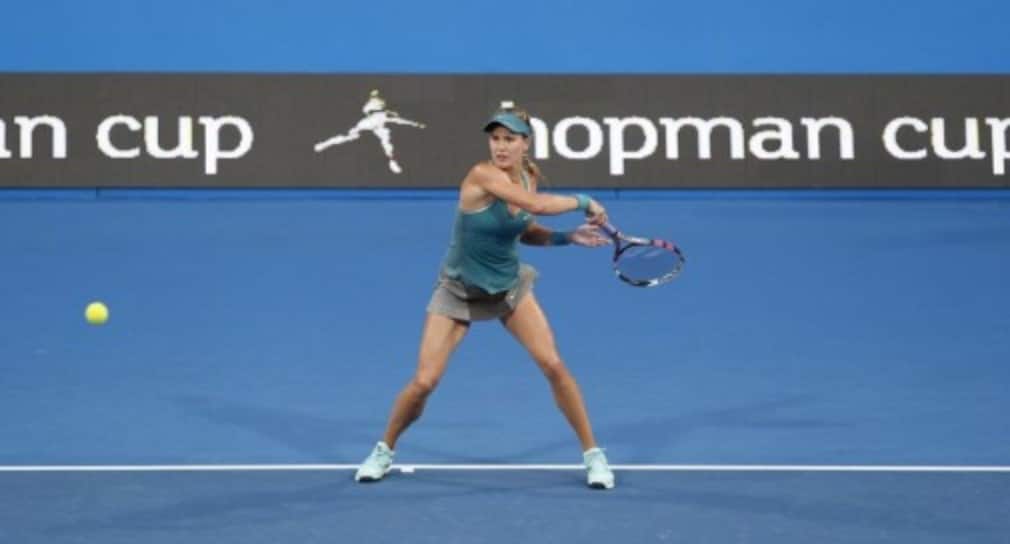 Bouchard leads Canadian victory
Originally published on 06/01/15
Genie Bouchard is starting her Australian campaign in Perth, where the weather conditions could not be more different than in her home city of Montreal. When the 20 year-old practised here yesterday at the Hopman Cup the temperature was 44C.
"I actually love it," Bouchard said. "I've talked to my friends back home and they tell me it's minus 30 so there is like a 70-degrees difference. It's pretty insane but I much prefer plus-45."
Bouchard has trained in Florida so she is used to the heat, but one thing she is not accustomed to is travelling without a coach. In November she split with her long-term coach, Nick Saviano. The pair had been together for eight years. Although she is travelling with one of her former coaches, the Argentine Diego Ayala, who worked with her when she was a junior, Bouchard said this might not be a long-term arrangement.
Talking in Perth about her coaching situation after a career-first victory over Serena Williams, Bouchard said: "I don't know what is going to happen in the future. It's going well and I'm liking how I am feeling on the court now and with my team. It's good."
Why the change? "I felt like I needed to go in a different direction and needed some new voices to get me to a higher level, the top level of what I want to achieve. My ultimate goal is to win a Grand Slam and to be No.1 in the world, so I felt like I needed to change."
Currently ranked world No.6, Bouchard was voted the WTA's most improved player of the year in 2014. Her rise up the rankings has been rapid. In 2012 she ended the year ranked No 144. By 2013 she was ranked No 32 and at the end of 2014 she was world No 7.
The ambitious Canadian, who turns 21 at the end of February, achieved a milestone in Perth with her 6-2 6-1 victory over Williams, who had defeated her 6-1 6-1 in Singapore at the end of 2014. "I think it's a good way to start the year," Bouchard said. "It will give me some confidence. I did not end the year last year as I wanted to so I really want to start strong. Matches like this just help that."
Bouchard's first match against Lucie Safarova of the Czech Republic on Sunday ended in a 6-0 6-4 defeat after just 68 minutes. The Canadian has worked hard in the gym and on court in the off season. However, she admitted that five consecutive weeks of such training "can get a little repetitive". She added: "I love playing matches. That is why I play, so I am happy to be here."
Vasek Pospisil defeated John Isner 6-3, 7-6 (4) to give the Canadians victory over the USA in Group A. Canada next meet Italy on Thursday morning. Bouchard's singles will be against Flavia Pennetta.