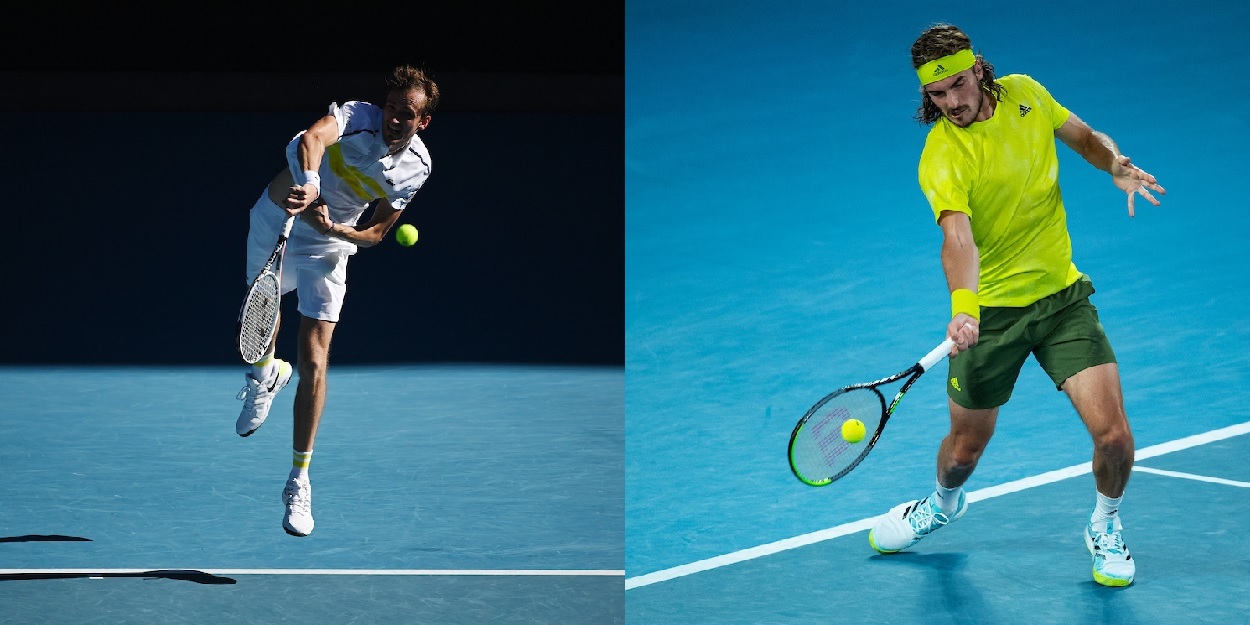 Analyst highlights factors that will lead to a close battle in Tsitsipas vs Medvedev Australian Open semi-final
Recent data means the Australian Open semi-final between Stefanos Tsitsipas and Daniil Medvedev promises to be an intriguing battle.
Medvedev is in red-hot form having won the Paris Masters and ATP Tour Finals end of last season, while also leading Team Russia to the 2021 ATP Cup title. Tsitsipas on the other hand mounted one of the greatest tennis comebacks of recent times in his previous round at Australian Open becoming only the second player to beat Rafael Nadal from 2 sets down at a Grand Slam.
Tsitsipas and Medvedev have faced off 6 times prior to their semi finals encounter, with Medvedev leading their head-to-head 5-1. Both players have different playing styles. Medvedev is predominantly a defensively minded baseline player, while Tsitsipas employs a more aggressive all-court game. Throughout the 2021 Australian Open Tsitsipas has posted superior numbers on serve, while Medvedev holds the edge on return.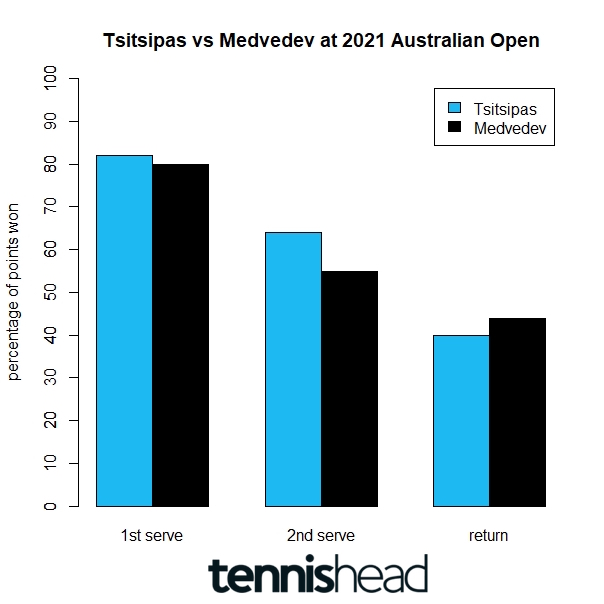 Tsitsipas has won 82% of points behind his first serve with Medvedev winning 80% of points. Where Tsitsipas has a greater edge is on the second serve. He has won 64% of points behind his second serve, which is 9% more than Medvedev. Yet Medvedev has won 44% of his return points, which 4% more than Tsitsipas.
Serving and returning are hugely important facets of a professional tennis match. If a player can hold serve more easily than their opponent and put that opponent under greater pressure on return, they are likely to be the eventual winner. As the numbers show Tsitsipas holds an advantage on serve, but this will likely be negated by Medvedev's stronger return.
This Australian Open semi-final promises to be a close encounter and it seems difficult to predict an eventual winner for this match. The result will depend on which player is able to stifle the strength of their opponent more effectively.
Luka Elliott has a B Com in Economics and Statistics from the University of Cape Town. His thesis was titled "Engineering Features for Tennis Match Outcome Prediction in a Statistical Learning Framework". He now writes for Tennishead focussing on how statistics effect the outcome of ATP matches