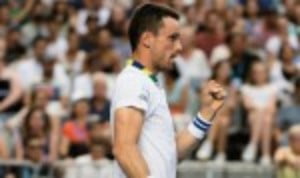 Agut secures Dubai title
Originally published on 03/03/18 00:00
It's the second time Bautista Agut has been victorious this year – he triumphed in Auckland in January – and he will return to the Top 20 on Monday. His combative gamestyle might not to everyone's taste, but its undeniably effective.
"I was a bit nervous closing the match, but I think I did a lot of work this month to manage the emotions," said the first Spanish winner since Rafael Nadal in 2006.
"This tournament is very special, and for the rest of my life this week will be in my head. I'm so happy to win a 500 (ATP) event. I beat Lucas, a great player with a big future."
If Pouille had managed to depart the Middle East with silverware, he would have taken his place amongst the Top 10 for the first time in his career. Instead, he will have to settle for a career-high ranking of No.12.
It was the third time in four weeks that the Frenchman had reached the championship match of an ATP event, and weariness undoubtedly contributed to his subdued performance.
"Roberto was too good today," admitted Pouille, a Dubai resident. "I played some great tennis this week, so a big congratulations to Roberto and his team. Hopefully next year I can come back and try to win the title."
It was Bautista Agut who snatched the only break of serve in a competitive opener. An untimely double-fault from the Frenchman saw him slip 3-1 behind, and he could not recover the deficit.
Pouille had looked sluggish in the first set, but he was more engaged in the next. He capitalised on a loose forehand from his rival to move 3-1 ahead, however he could not maintain his hard-earned advantage for long.
The Spaniard, who tended to win the majority of protracted rallies, struck back immediately. He pulled level at 3-3 and was soon on the cusp of victory.
Pouille dumped a forehand in the net to fall 5-4 behind, and Bautista Agut completed the formalities on serve before raising his hands aloft in delight.